10. PICKMEAPP AS SOFTWARE UPDATER
10. PICKMEAPP AS SOFTWARE UPDATER
admin
Wed, 2020-04-01 09:33
10.1 PickMeApp software updater Overview
10.1 PickMeApp software updater Overview
PickMeApp keeps your installed applications up-to-date.
PickMeApp's full range of software management functionality makes PickMeApp the most advanced and the best software updater tool in the market. Here's why:
Scan and lists your outdated software
Upgrades are downloaded and installed with just one click
Upgrades are downloaded from the program's original source
Create a system restore point that rolls back to previous updates whenever required (available on-demand in the Pro version only)
Portable and non-portable modes (Pro version only)
Built-in advanced Uninstaller
Supports thousands of software programs via built-in and/or custom App Stores
Works smoothly with all Windows versions, including Windows 10/8/8.1/7/XP/Vista
The outdated programs will be marked by red exclamation mark "!".
Alternatively the upgradeable filter can be used to find programs that can be upgraded.

It is possible to upgrade one or several applications in a raw by pressing "Upgrade" button.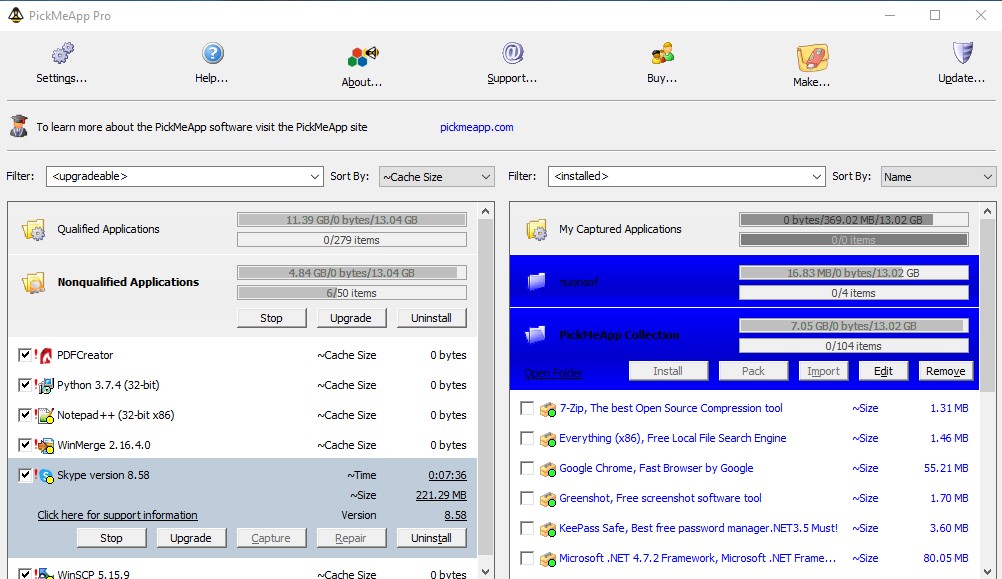 Upgrades will be available for any software programs installed from PAD packages located in one of PickMeApp Profiles ( see more explanation in the following paragraph)

For example
Any application from PickMeApp Collection once installed on the computer will be monitored for upgrades.
To make sure that installed software will be monitored for upgrades, import its PAD package to one of PickMeApp profile . As reminder the official PAD repository (http://repository.appvisor.com/) contains more than 15,000 software titles.

It is ok to import corresponding PAD package even after application was already installed.

admin
Wed, 2020-04-01 09:35