Imagine it
PickMeApp Value
---
Millions of transferred, installed, repaired, upgraded, uninstalled software programs,
Millions of dollars recovered by transferring installed software to new PCs,
Hundred thousand of professional technical support hours saved,
during eleven years of service that PickMeApp manages all aspects of the Windows software life cycle for its million of users.
Features
Manage Windows software life cycle.
---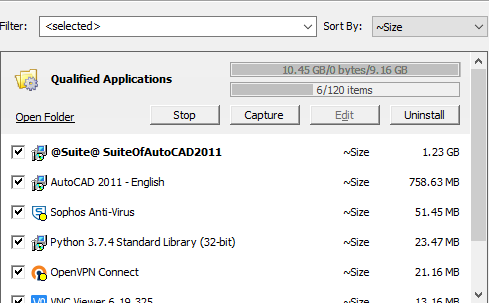 Capture , Backup and Transfer installed software programs
Capture, Backup and Transfer personalized programs from one PC to another. With 'Add and Remove Programs' like interface guides you through the transfer of selected programs without the need to locate CDs or repeat any lengthy installations. When complete, all your programs and customizations will be transferred intact to the new PC. No changes are made to the original installations, and the transfer can be easily reversed.
PickMeApp successfully captured and transferred more than different 15,000 software products and their versions. The list includes products from publishers such as Adobe, AutoCAD, Microsoft, Intuit (TurboTax), Corel, Nero, Symantec, Roxio and more! PickMeApp supports program transfer from low version Windows OS to higher version of Windows OS, and from Windows 32 bit to Windows 64 bit, (Note: Transferred software should support destination operating system as well.)
---
Installer and Package Manager
PickMeApp is ultimate personal software package manager for Windows . PickMeApp helps you to discover, download and install silently any existing Windows applications with just a few clicks.
-automatically identify how to install or to remove program in a "silent" mode (without user intervention).
-automatically keep track of new releases of the packages to allow downloading and installation of last releases
-work completely offline with local repositories of custom software
-create and manage the personal collection of installation packages , in cloud or locally, centralized or distributed.
-reuse build-in PickMeApp Collection of 120 popular silently installable programs.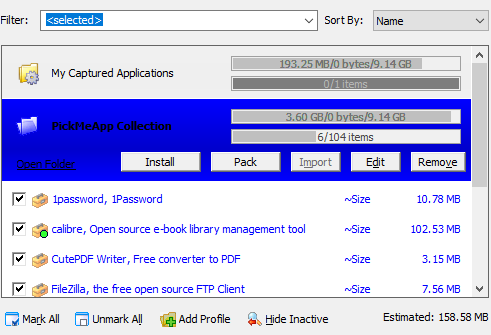 ---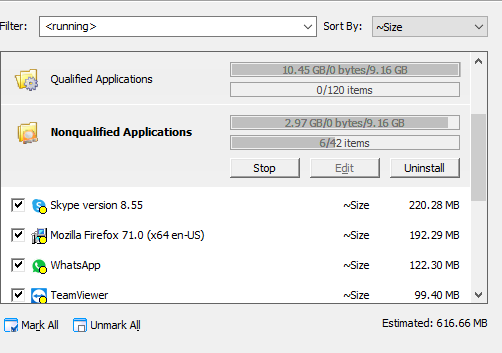 Uninstaller and PC Cleaner
Uninstall software and remove unwanted programs installed on your computer easily! Even if you have problems uninstalling and cannot uninstall them from "Windows Add or Remove Programs" control panel applet. With its advanced and fast algorithms, PickMeApp analyzes an application's data before uninstall and scans for remnants after the uninstall of a program. After the program's regular uninstaller runs, you can remove additional unnecessary files, folders and registry keys that are usually left over on your computer.
PickMeApp uninstall features offers you some simple, easy to use, but effective and powerful methods for uninstalling software.
PickMeApp the best solution when you have to remove stubborn programs, partially installed programs, partially uninstalled programs, and programs not listed as installed at all!